When you think about the tropics, your mind probably immediately goes to places like the Amazon Rainforest, Hawaii, abundant with plants like coconut trees and showy flowers. However, contrary to popular belief, the tropics are not characterized by high temperatures and moisture, but are actually established based on geographic location and the presence of equal lengths of day and night.There are multiple different types of tropics; warm and cold, wet and dry. This broad definition of the tropics creates environments in which a variety of different flora can reside. The characteristics of these plants have many comparing and contrasting features. Our tropical section of the greenhouse provides a plethora of these plant families with a variety of characteristics! So keep reading to learn more about the incredibly diverse and unique superstars residing in our very own greenhouse!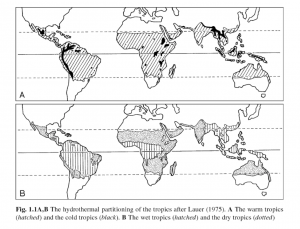 Lüttge, Ulrich. Physiological Ecology of Tropical Plants. Springer Berlin, 2008.
In our greenhouse 10 families of tropical plants are represented. These families include some species of ferns, trees, herbaceous plants and more. All ten families are described below with some background and key features that can be used to identify their species.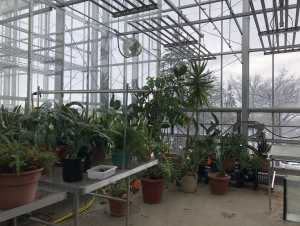 Commelinaceae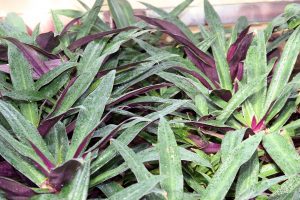 "The early bird gets the worm" – Commelinaceae family motto
Native to the tropical Americas 
Ok, maybe plant families don't actually have mottos, but this would definitely be the Commelinaceae's motto if they had one. Plants in this family have flowers that only bloom in the morning, giving them a bright start to the day. The Commelinaceae, or Spiderworts, are a family native to the tropical Americas. Some key features to help recognize members of this family include their alternating pattern of leaves on the stem (rather than directly across from one another) and the parallel venation in their leaves (the veins run parallel to one another rather than in a classic branching pattern). They have 3 petals that are usually roughly the same size, 3 sepals (petal or leaf-like structures attaching right under the petals), and 6 stamens (the male parts of the flower where the pollen is kept). If you look closely in the Wooster greenhouse, you can spot Rhoeo Spathacea, commonly known as "Moses in the cradle". Take a peek to see the parallel venation on its leaves, which is characteristic of this family and very distinct in this individual! 
KEY TRAITS 
Herbaceous plants

Leaves form sheaths at their bases that surround the stem

Flowers remain open for only a few hours

Common greenhouse species

Rhoeo Spathacea
Bromeliaceae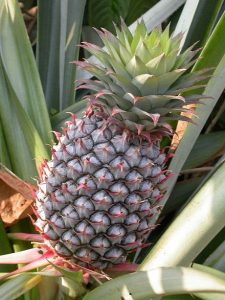 Native to tropical Americas 
Did you know that Bromeliaceae constitutes some key real estate at Bikini Bottom? That's right, the pineapple under the sea, home of Spongebob Squarepants, is one famous member of this family of plants! Bromeliaceae, or Bromeliads are native to the tropical Americas, and house more than just cartoon characters. Bromeliads are also important homes to frogs, including our very own population of poison dart frogs here at the College of Wooster. The leaves of these plants come together in what's called a rosette, forming a tank-like structure that the frogs love to hide out in. If you look very closely in the frog tanks, perhaps you can see a tiny frog nestled in a Bromeliad! 
KEY TRAITS 
Can be epiphytic, gaining their nutrients from the air, or terrestrial, gaining their nutrients from the soil.

Grows to form a rosette structure

Usually house pools of water within their foliage structure
COMMON GREENHOUSE SPECIES 
Piperaceae