When you think about the tropics, your mind immediately goes to places like the Amazon Rainforest or Hawaii, abundant with plants like coconut trees and showy hibiscus flowers. Contrary to popular belief, the tropics are not characterized by high temperatures and moisture, but are rather established based on geographic location and the presence of equal lengths of day and night. There are multiple different types of tropics, differing in temperature and moisture levels. This broad definition of the tropics creates environments in which a variety of flora can reside. Our tropical section of the greenhouse provides a plethora of these plant families with many unique characteristics! So keep reading to learn more about the incredibly diverse and unique superstars residing in our very own greenhouse!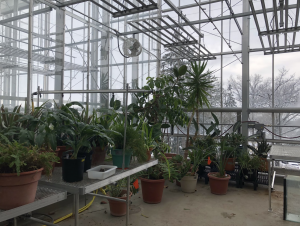 In our greenhouse, 10 families of tropical plants are represented. These families include some species of ferns, trees, herbaceous plants and more. Some families and their greenhouse representative are shown below.
Commelinaceae (Rhoeo spathacea)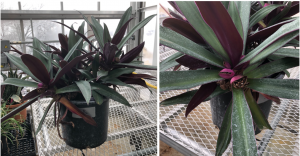 "The early bird gets the worm" – Commelinaceae family motto
Ok, maybe plant families don't actually have mottos, but this would definitely be the Commelinaceae's motto if they had one. Plants in this family have flowers that only bloom in the morning, giving them a bright start to the day. Commelinaceae, or the spiderworts family, are native to the tropical Americas. If you look closely in the Wooster greenhouse, you can spot Rhoeo Spathacea, commonly known as "Moses in the cradle". Take a peek to see the parallel venation on its leaves, which is characteristic of this family and very distinct in this individual! 
Rhoeo spathacea

Native to Belize, Guatemala, and Southern Mexico

Common ornamental/house plant

Dark/metallic green leaves with glossy purple underside

Leaves can grow upright about 6-8 inches

Can tolerate alkaline, clay, sand, and acidic soil types, due to high drought tolerance

Can even grow in the cracks of concrete!
Bromeliaceae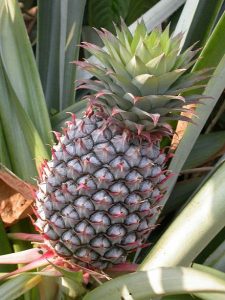 Did you know that Bromeliaceae constitutes some key real estate at Bikini Bottom? That's right, the pineapple under the sea, home of Spongebob Squarepants, is a famous member of this family of plants! Bromeliaceae, or the bromeliad family, are native to the tropical Americas, and house more than just cartoon characters. Bromeliads are also important homes to frogs, including our very own population of poison dart frogs here at the College of Wooster. The leaves of these plants come together in what's called a rosette, forming a tank-like structure that the frogs love to hide out in. If you look very closely in the frog tanks, perhaps you can see a tiny frog nestled in a Bromeliad! 
KEY TRAITS 
Can be epiphytic, gaining their nutrients from the air, or terrestrial, gaining their nutrients from the soil.

Grows to form a rosette structure

Usually house pools of water within their foliage structure
Psilotaceae (Psilotum nudum)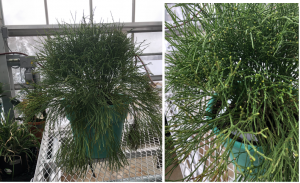 Get ready for a blast from the past with our next family, Psilotaceae, native to tropical and subtropical regions across the world. Evolutionarily, this family is one of the oldest that we have featured in the greenhouse. Most families featured in the greenhouse (and in the world) are flowering plants, or Angiosperms. Psilotaceae however, belong to the ferns and fern allies group. Besides the lack of flowers, another neat feature of whisk ferns are their rhizoids. Like roots, rhizoids help anchor a plant to the ground, but unlike roots, they cannot transport water and minerals throughout the plant. In addition to the distinct whisk-like branching, whisk ferns also have unique structures called synangia. These are small orb-like structures that house spores, which assist in reproduction for the plants. 
Psilotum nudum

 

Common name: Whisk Fern

Can be found in Gulf coast states (Florida, Texas, Hawaii)

One of the simplest of all living vascular plants

Lost the capacity to grow roots and leaves has rhizomes (root like structures for anchoring) instead

Stems are the organs of the plant, containing the conducting tissue for transporting fluids and minerals
Musaceae (Musa acuminata)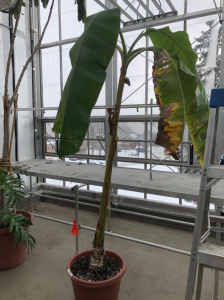 Native to Africa, Asia, Australia 
Perhaps one of the most famous tropical families, the Musaceae family includes species like bananas and plantains. They are native to Africa, Asia, and Australia. While you may know many members of this family as "trees", that term is not fully correct in describing them. The Musaceae have no woody growth, which is characteristic of trees. Instead, the "trunk" of individuals like the banana plant are actually just many layered leaf sheaths. They typically have large leaves and big and bright flowers, some species can get up to 50 ft tall!
Musa acuminata

 

Common name: banana plant

Originate from hot, tropical regions in southeast Asia 

Fruit has differing amounts of vitamins based on its level of maturity 

Banana "fruit" is technically an elongated berry 

Traditional medicinal uses for all parts of the plant all around the world 

Has some antimicrobial properties
Euphorbiaceae (Hevea brasiliensis)
Most commonly found in the Indo-Malayan region and tropical America, but some specials may also be found in some non-tropical regions. Beware of the Euphorbiaceae due to the poisonous nature of many of their species! The leaves of many euphorbiaceae house a milky latex that is highly toxic. The latex can act as a strong skin irritant and high exposure could lead to carcinogenic effects. While bad for humans, the latex is good for the plants. Not only can the sap help seal plant wounds but also, the substance repels potential insect predators. Species can be found as herbs, shrubs, or trees and typically exhibit an alternating leaf pattern.
Hevea brasiliensis 

Common name: Rubber Tree

The plant received its name for its shiny and rubbery appearance and it is often used for the production of rubber!

This tropical plant thrives best in very humid and warm environments with bright light.

This tree can grow up to 100 ft outdoors and 6-10 ft tall indoors.

The rubber plant is known for its large and powerful roots that could damage water lines and sidewalks.
How the Greenhouse Accommodates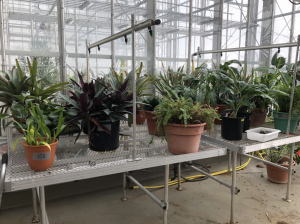 Since there is a diverse range of tropical plants, their treatment in a greenhouse setting may vary. On average, tropical plants need to be watered 2-3 times a week and housed in a temperature between 75-85 °F with humidity levels under 35%. There are two types of substrates used in our tropical greenhouse, soil and orchid bark. The orchid bark is a substrate used for members of the orchidaceae family due to its aeration and moisture retention abilities. These substrate characteristics provide a better environment for the epiphytic roots (roots that derive their moisture and nutrients from the air or debris around them). 
Watch our video featuring Wooster students and their favorite tropical greenhouse plants!!
JB, JC, AP made this webpage to increase plant appreciation as part of Wooster's Field Botany course in Spring 2020
Sources:
"Asphodelaceae Family." Asphodelaceae, ucjeps.berkeley.edu/eflora/eflora_display.php?tid=93780.
Gilman, Edward. "Rheo spathacea." University of Florida: Cooperative Extension Service,Fact Sheet FPS-                          510, 1999
Kramer, Karl. "Psilostaceae." Pteridophytes and Gymnosperms. The Families and Genera of Vascular                                                             Plants, vol. 1, Springer, Berlin, Heidelberg, 1990, pp. 22–25.
Lüttge, Ulrich. Physiological Ecology of Tropical Plants. Springer Berlin, 2008.
The Editors of Encyclopaedia Britannica. "Euphorbiaceae." Encyclopædia Britannica, Encyclopædia
Britannica, Inc., 18 Sept. 2017, www.britannica.com/plant/Euphorbiaceae.