The story of the not-so-green greenhouse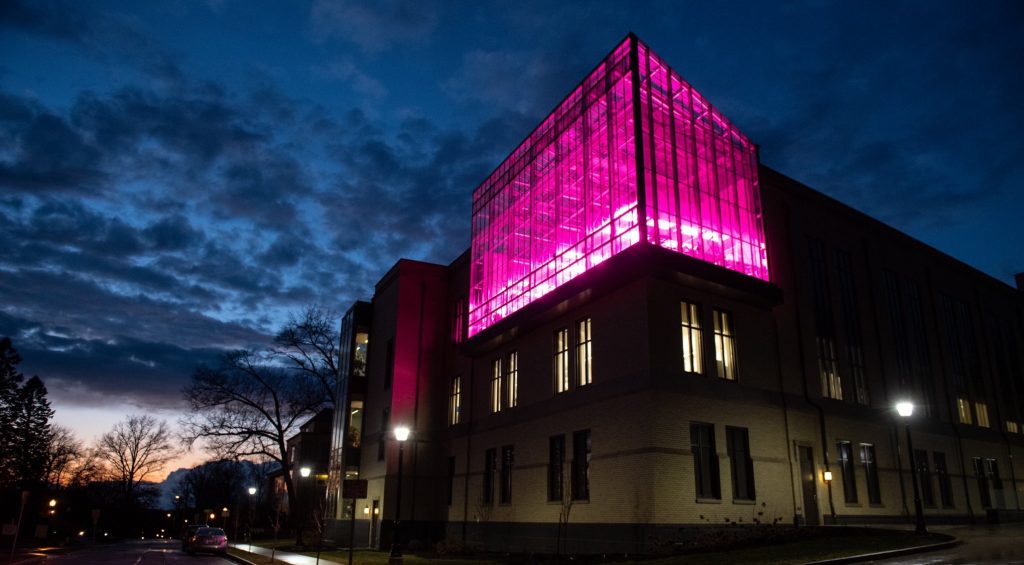 If you have ever visited the College of Wooster campus at night, you may have seen a strange pink glow coming from Ruth W. Williams Hall, the college's life science building. This glow comes from the sustainable light source in the greenhouse, home of the college's unique collection of plants. "Why are the lights this color?" you may have asked, "what is the point of the pink lights?" There is more to that answer than you may think. There are many reasons to grow plants in a pink greenhouse, with roots in many different branches of science. To make a long story short, it's because plants like pink lights. The combination of red and blue light, which creates the pink glow we see, promotes healthy growth in plants that may not be getting enough sunlight[1]. But before we tell you why pink light matters to plants, we're going to tell you why pink light should matter to you.

The greenhouse in Ruth W. Williams Hall is part of the College of Wooster's progress towards becoming a more sustainable campus[2]. The greenhouse utilizes an array of LED lights, which are nearly twice as efficient as alternative light sources[3]. Other greenhouse facilities, including the Brooklyn Botanic Gardens in New York, have already made the move to sustainable purple LEDs in a similar attempt to reduce excessive energy use[4]. The pink greenhouse is one small part of the College of Wooster's goal to create a setting where students, staff, and faculty can be educated on the environmental context of their actions[5]. So next time you are inspired by the brilliant light show in the greenhouse, remember to not only go green, but to also think pink!
Seasonal Depression
While the plants in the greenhouse may look like they get to have a disco party every night, that pink light is actually important to their health and well-being. Every year, College of Wooster students get emails from the Wellness center, telling us about the "sun lamp." Sun lamps can help people get more Vitamin D, which reduces seasonal depression. Plants are like people in the way that they also get sad in the winter[6].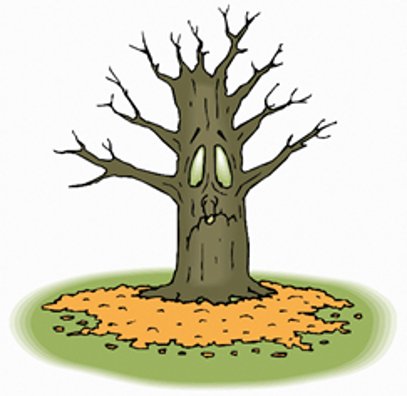 To learn why plants get seasonal depression, we first need to understand why Earth has seasons. Winter in the Northern Hemisphere is due to the Earth tilting on its axis away from the sun[7]. This makes the light from the sun bend around the curvature of the Earth, reaching areas north of the equator. The further north an area is, the more light bends to reach it, resulting in less light reaching the area. This decrease in available light has a cooling and darkening effect. So, the sunrise is later and sunset is earlier in the winter. It also gets very cold!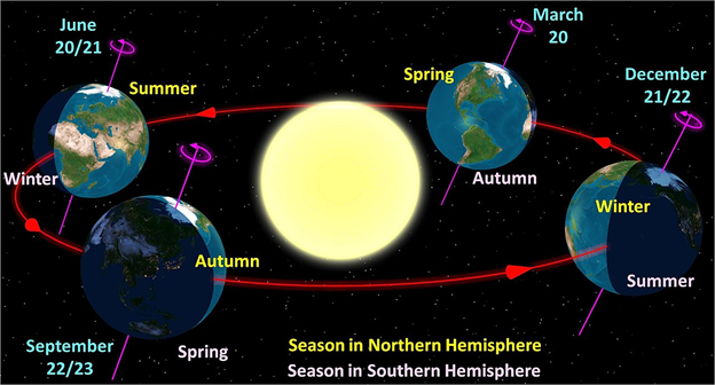 In Ohio, many of our plants are deciduous, meaning they go dormant in the winter. Going dormant means that they go to sleep, eating the food that they've stored for the winter[8]. It's kind of like hibernating! Colder temperatures and shorter days tell plants: "it's time to go to sleep[9]!" But, in the greenhouse, we want to enjoy active plants year-round! We also like to collect plants from near the equator, which isn't affected by the Earth's tilt very much. So, we need to create a "fake summer" by extending daylight and maintaining a summer-like temperature. Internal heating keeps it warm and our pink disco lights make the plants think it's sunny outside! So, we've got some happy plants!
Photosynthesis
You may have heard that a plant's food is water and sunlight. However, this isn't necessarily true[10]. Plants actually take sunlight and oxygen and transform them into sugars, which is the plants food. This process is called photosynthesis[11]. Plants use carbon dioxide (this is what we humans breathe out) which they take from the air, water that they take up from the soil, and light which they absorb through their leaves to make these sugars[10]. Photosynthesis occurs in the chloroplast which is similar to an organ in humans. Chloroplasts actually used to be stand alone bacteria that had the ability to photosynthesize. But then a long long time ago, cells that are the common ancestor of all plants went schlurp and engulfed the bacteria. These bacteria, which are now called chloroplasts, have become a crucial part of plant cells and allow for plants to make their own sugar[1]. The chloroplast takes the carbon from carbon dioxide and uses water and the energy from light to create sugar and oxygen[12]. The oxygen is released into the environment and is what we animals breathe in[10]. The reason that the plants are green has to do with the process of photosynthesis and what light plants use to power these reactions[11].
Light Spectrum
The answer to why the greenhouse is pink can be found in the color of the plants themselves. Before we answer this, let's take a step back to talk about color and why we are able to see the different colors of the light spectrum.
The human eye can only detect a small range of light within the whole light spectrum. This visible light is just one small part of something called the electromagnetic spectrum, which is the entire range of light[13]. The various characteristics of waves contribute to the differences between each wave. For instance, wavelength, which is the distance between two wave peaks, can make them appear different colors to our eyes[13]. The visible light spectrum can then be broken down into the color components. Think of it as a rainbow with red at one end, and violet at the other. The reason objects appear as different colors is due to the different wavelengths that are either absorbed by the object or reflected back into the environment. Plants appear green not because they absorb a lot of green light, but because they absorb all the other colors and reflect the green light back.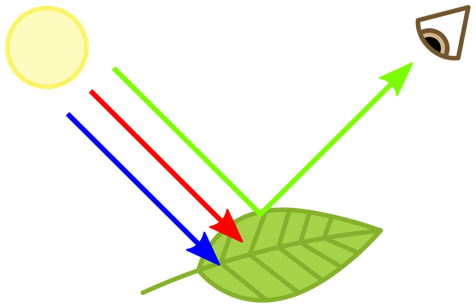 Plants are better at taking in some colors more than others. For instance, plants reflect green light the most, so it makes sense that they are the worst at absorbing this color[14]. Red light, however, is considered the opposite color of green, because they cancel each other out when they combine. It is also the color that is absorbed the best, along with blue[15] . This idea is why the greenhouse is pink. Pink light is a mix of red and blue and since it is opposite in color from the green of the plants, it is absorbed the best, making it a suitable color for the greenhouse. Not to mention, it's perfect for a plant disco party!
Footnotes:
[1]  Darko, E., Heydarizadeh, P., Schoefs, B., Sabzalian, M.R. 2014. Photosynthesis under artificial light: the shift in primary and secondary metabolism. Philos Trans R Soc Lond B Biol Sci. 369(1640): 20130243.
[3] Bula, R.J., Morrow, R.C., Tibbitts, T.W., Barta, D.J., Ignatius, R.W., Martin, T.S. 1991. Light-emitting Diodes as a Radiation Source for Plants. HortScience. 26(2): 203-205.
[4] Schmidt, S. What Is That Colored Light Coming from the Greenhouses? [Internet]. Brooklyn (NY): Brooklyn Botanic Garden; 2018 Jan [cited 2020 Feb 9]. Available from https://www.bbg.org/news/what_is_that_colored_light_coming_from_the_greenhouses
[6] Smith, H. (1982). Light Quality, Photoperception, and Plant Strategy. Annual Review of Plant Physiology, 33(1), 481-518. https://doi.org/10.1146/annurev.pp.33.060182.002405
[7] U.S. Department of Commerce, National Oceanic and Atmospheric Administration. National Weather Service. (2020). The Seasons, the Equinox, and the Solstices. https://www.weather.gov/cle/Seasons
[9] De Wit, M., Galvão, V.C., Fankhauser, C. (2016). Light-Mediated Hormonal Regulation of Plant Growth and Development. Annual Review of Plant Biology, 67(1), 513-537. https://doi.org/10.1146/annurev-arplant-043015-112252
[10] Science and Technology Concepts Middle School. (2017, April 12). What is Photosynthesis. Smithsonian Science Education Center. https://ssec.si.edu/stemvisions-blog/what-photosynthesis
[11] Mauseth, J. D. (2017). Energy Metabolism: Photosynthesis. In Botany: An introduction to plant biology (Sixth edition). Jones & Bartlett Learning.
[12] Soll, J., & Schleiff, E. (2004). Photosynthetic Cells. Scitable by Nature Education, 5(3), 198–208. https://doi.org/10.1038/nrm1333
[13] Crockett, Christopher. "Word of the Week: Electromagnetic Spectrum." EarthSky, 7 Sept. 2019.
[14] Kume, Atsushi. "Importance of the Green Color, Absorption Gradient, and Spectral Absorption of Chloroplasts for the Radiative Energy Balance of Leaves." Journal of Plant Research, vol. 130, no. 3, May 2017, pp. 501–14.
[15] Pridmore, Ralph W. "Complementary Colors Theory of Color Vision: Physiology, Color Mixture, Color Constancy and Color Perception." Color Research and Application, no. 6, 2011, pp. 394–412.