The Wooster Herbarium
Here at the College of Wooster, we have the privilege of having our very own herbarium right on campus. Our collection includes hundreds of specimens from dozens of families, including herbaceous families, woody families, and even some aquatic families. Our herbarium also includes various native and invasive species, which you can learn more about here. Although these samples are not readily accessible to the public, they are a valuable resource to the science community on campus and are often used as study subjects for our Field Botany course.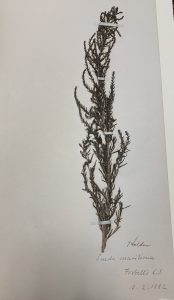 Although some of our specimens were collected within the last decade, the bulk of the herbarium was collected in the nineteenth century, one of the oldest being a sample gathered in 1875. Flipping through the pressed sample files, one is not only confronted with the specimen's genus and species, but also the name of the botanist who collected the sample. Albert Fairchild Holden (1866-1913) is one of the more prominent contributors in the Wooster herbarium, cited as the collector of a large bulk of our nineteenth century samples. Not only is Holden a notable figure in the realm of the Wooster herbarium, he is also a known botanical figure and is even recognized as one of the richest individuals born in Cleveland Ohio for his lucrative mining and smelting company. Nowadays Holden is immortalized in a commemorative arboretum, The Holden Arboretum, in Kirtland, Ohio, and, of course, amongst the plentiful samples in our herbarium.
Highlighted native and invasive specimens from our collection