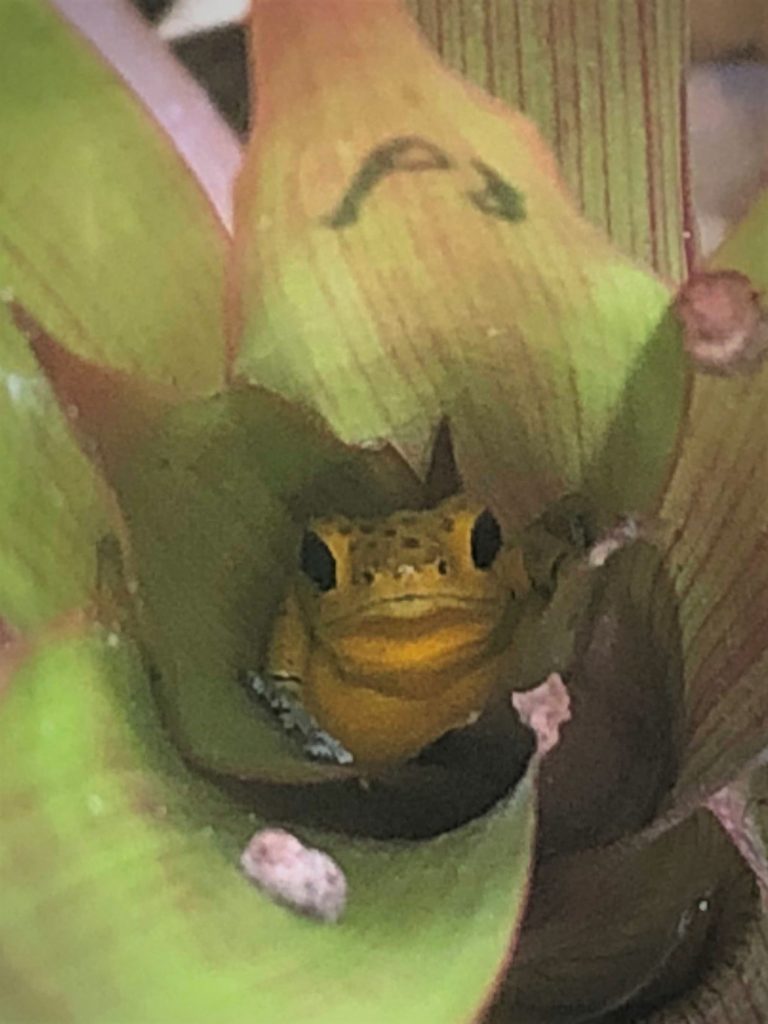 What's in it for the Plants?
Bromeliads are a family of plants whose leaves often form tanks that serve as habitats for a variety of plants and animals.1 Clearly, this relationship benefits the animal that is making its home in the plant. But what about the bromeliad itself? Does the situation benefit the plant? Harm it? Make no difference?
Senior Mackenzie Goltz (class of 2020) is studying this very question in Dr. Richard Lehtinen's lab. While the majority of existing research considers the relationship as commensalism–where the frog is benefitting but the plant does not benefit, nor is it harmed–she hypothesizes that it is mutualistic, where both parties benefit.2 Working with bromeliads in the greenhouse (Guzmania lingulata and Neoregelia chlorosticta), Mackenzie can measure the relative growth of plants with and without frogs to see if they are benefitting.2
From Greenhouse to Ecosystem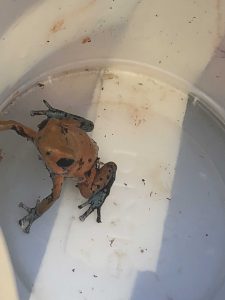 A research greenhouse is the ideal place for an experiment like Mackenzie's because it allows for a highly controlled environment. Strawberry poison dart frogs are native to Central America, so researchers need to mimic their natural habitat.2 The bromeliads and their frogs live in tanks in the tropical room, where they receive a cool misting from time to time. Yet, the impact of the research stretches far beyond Wooster's greenhouse. Making conditions as similar to nature as possible should make the results more applicable to real life situations. These particular results are important, not only to learn about the frogs and bromeliads, but for a broader understanding of symbiotic relationships and co-evolution between species. As Mackenzie told us, the mutualism between strawberry poison dart frogs and bromeliads is "evidence of the complexity that exists in the biological world and the interconnectedness of species."2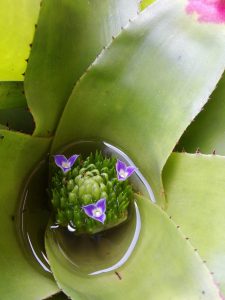 More About Mutualistic Relationships
Bromeliads are pretty special plants. Their tough, broad leaves come together in a rosette at the base of the plant and, in many species, this forms a "tank." But this tank isn't just an aquarium—it's an ecosystem of its own, interacting in complex ways with the other plants and animals that find a home in it. Each bromeliad tank is its own microhabitat, and many species, poison dart frogs included, need this specific tiny habitat to thrive.1 The International Union for Conservation of Nature states that if two species rely on each other, they should have the same level of conservation concern.1 Meaning that if a frog species is endangered, the plant it relies on to live should receive equal consideration.
Hypotheses don't come from nowhere! While most research considers the relationship between frogs and bromeliads to be an example of commensalism, a 2017 paper suggested that it might be mutualistic. The researchers concluded that the plants benefit from nitrogen in the animals' feces, which acts as a fertilizer to help the plant grow.1 But in biology, we never stop asking questions! There is still plenty of work to be done to continue gathering evidence for the hypothesis and to understand more about the relationship between these fascinating species. Some frog species' respective bromeliads haven't even been identified yet.1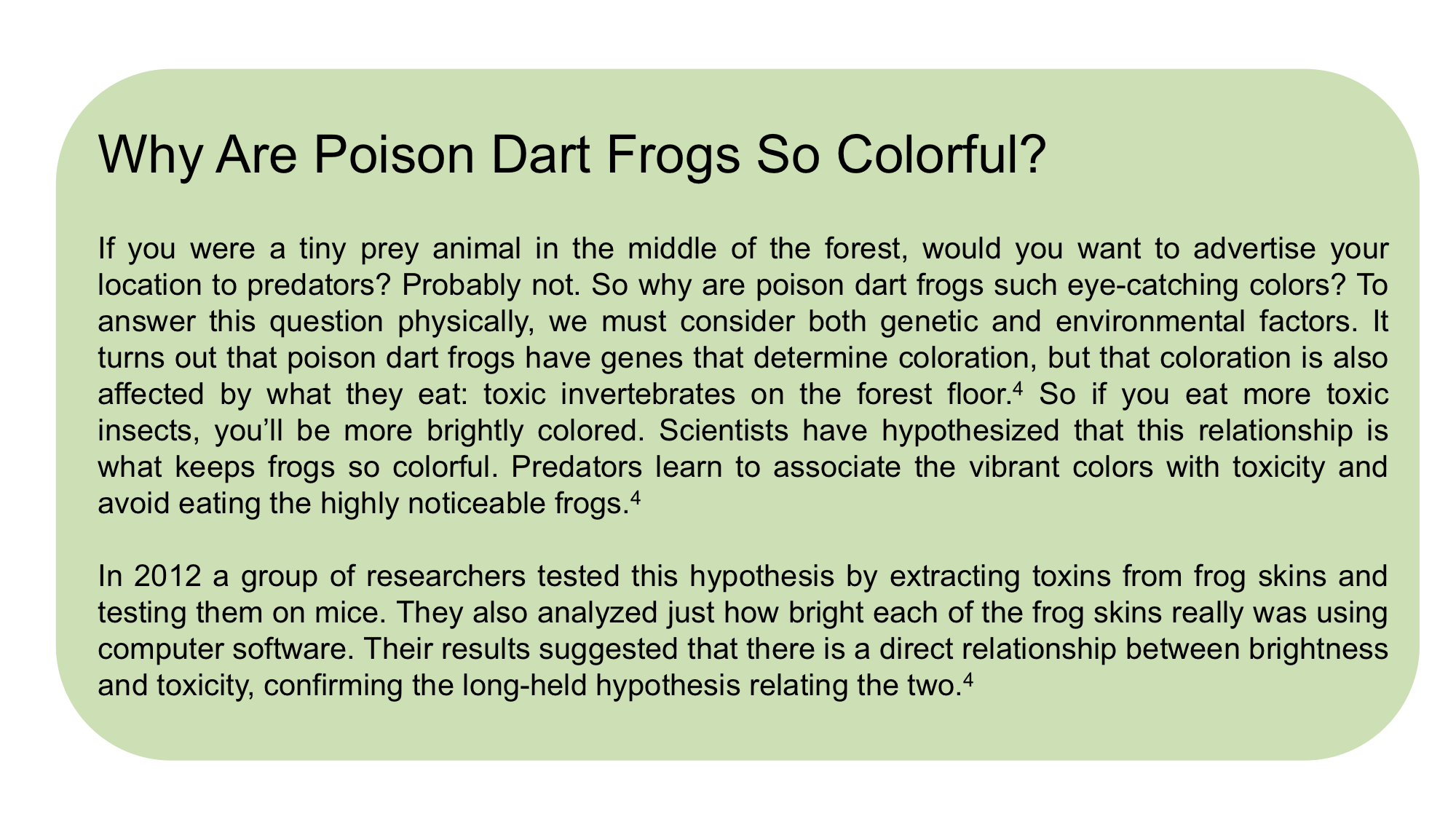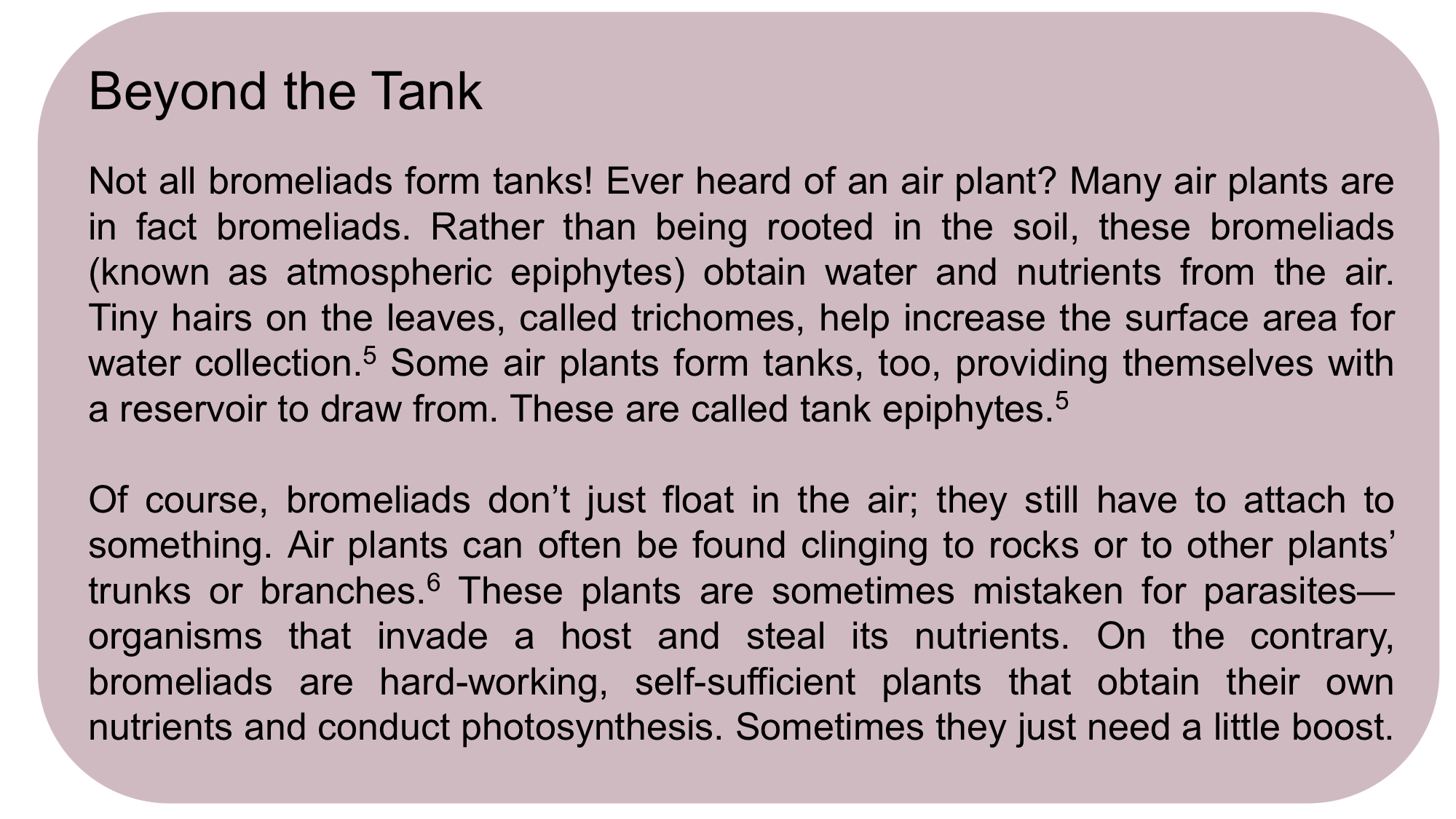 <- Return to the Greenhouse Research main page
H.R.J.P. made this webpage to increase plant appreciation as part of Wooster's Field Botany Course in Spring 2020.
Works Cited
Sabagh, L. T., Ferreira, R. B., Duarte Rocha, C. F. (2017). Host bromeliads and their associated frog species: Further  considerations on the importance of species interactions for conservation. Symbiosis 73, pp 201-211
M. Goltz, personal communication, February 7, 2020
M. Goltz, personal communication, February 22, 2020
Mann, M. E. and Cummings, M. E. (2012). Poison frog colors are honest signals of toxicity, particularly for bird predators. The American Naturalist 179(1)
Martin, C. E. (1994). Physiological Ecology of the Bromeliaceae. The Botanical Review 60(1), pp 2-4.
"What Are Bromeliads?" Bromeliad Society International. retrieved from: https://www.bsi.org/new/what-are-bromeliads/