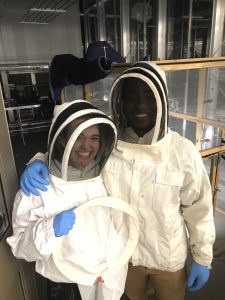 Seniors Jess Roberts and K.C. Okoronkwo (class of 2020) have spent the past year studying bumblebees and how they forage in Dr. Jennifer Ison's lab. When bees forage, they want to find the most rewarding flowers (those that have the most nectar). Then, when they go out looking for food again, the bees will want to go back to those rewarding flowers.1 But, how do bees remember which flowers are the rewarding ones? Do they remember what those flowers looked like or do they have some system of marking the best flowers?
More specifically, Jess and K.C. wanted to know if the bumblebees are able to associate a certain color flower with a reward. They also wanted to study if the bees use some sort of scent marking system to mark the flowers they know are rewarding so they can revisit those flowers.2
Now, you may be wondering, how exactly do you study whether or not bumblebees are capable of associating one color with a reward? How do you find out if bees use their olfactory senses (smelling and scents) to remember rewarding flowers? In a greenhouse, of course! By studying in a greenhouse, Jess and K.C. were able to contain all their bees in one area and control variables like lighting and temperature.2
Jess and K.C. also had an incredibly interesting way of studying their questions. They used 3D-printed flowers filled with either sugar water (rewarding flowers) or plain water (non-rewarding flowers). To investigate the color association question, they painted some of the flowers different colors and made only one of those colors the "reward" color. For their question about scent marking, Jess and K.C. used unpainted flowers, and only some of the flowers held a reward. In each section of the study, they gave the bees time to figure out which flowers were the rewarding ones and then later tested them to see if they would remember and revisit the reward flowers.2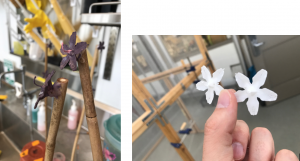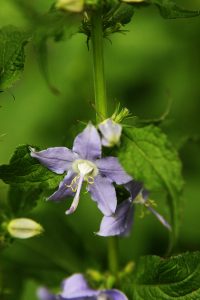 Jess and K.C. modeled their flowers after the American bellflower (Campanula americana L.). The American bellflower grows at forest edges around the eastern part of North America, and is primarily pollinated by insects.3  American bellflowers have nectar that pollinators, such as bumblebees, are attracted to. These flowers can also have differently colored pollen; some have a darker purple pollen and others have a white/light-purple pollen. Why do they have differently colored pollen? Well, Dr. Ison and her lab have been studying this exact question for some time, asking how this color difference is maintained and if the variation is a result of pollinator preference for a particular color.3 Jess and K.C. are following the research by studying bee memory and learning.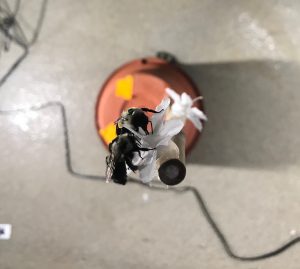 Why Should We Care?
Jess and K.C.'s work is important in understanding how bumblebees learn and retain information, which is useful in understanding bumblebee behavior and pollination. Bumblebees can use both visual and olfactory cues, so this research will help us see which cues matter more to bumblebees when they are searching for food.2
The Personal Side of Bumblebee Research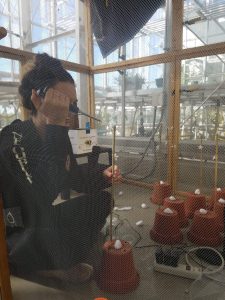 When we interviewed Jess, we asked her how her research fits into her future plans. In the future, Jess wants to be a high school science teacher, and she hopes to share her research and newfound appreciation for bees with her students.
We also asked Jess for some of her favorite memories about working with the bumblebees in the greenhouse. One of her favorite stories, she told us, was when about 4o bumblebees escaped from their hive. Over the course of the semester, it was common for a few bees to escape from their hives here and there. One time, however, it was more than just a few bees. About 40 bees escaped all at once and were flying around the greenhouse. A few of them even made it into the desert room and began collecting pollen from the flowers. Lucky for all of us in Williams Hall, Jess is an expert bee-catcher.2
More About Bumblebees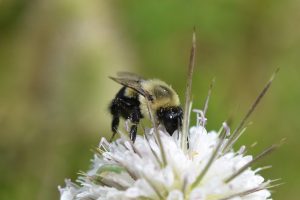 Common eastern bumblebees (Bombus impatiens) are important and effective pollinators. Bees transfer pollen from flower to flower, which helps the plants create the next generation of offspring.4 Bumblebees are also really smart! They can be trained to associate certain colors with a reward, and often prefer one color over another, which could affect what flowers they visit. These bees also have relatively good memories and can retain information they learned for about 24 hours.1 
Plants and Pollination
Pollination is essentially how flowering plants mate. The pollen (plant sperm cells) on the flower has to make its way to the stigma (a female organ that brings pollen down to the ovaries).4 In order to create the best offspring, most plants would rather use pollen from another, unrelated plant than the pollen that they already have. Plants can't exactly go ask another plant for their pollen, so many of them have to use other means of acquiring the pollen through wind, water, and animals (bees, butterflies, beetles, birds, bats, etc).4
As plants can't control where the animals go and what pollen they bring, it may seem like they don't have any control over what pollen comes to their flowers. But, even though a plant can't really choose its mates, it can still be a little choosy. One way that plants control their mating is that they can reject pollen from their own flowers.6 If pollen from a plant ends up on its own stigma, there are special mechanisms to reject that pollen and prevent the plant from pollinating itself.
<- Return to the Greenhouse Research main page
A.O.J. made this webpage to increase plant appreciation as part of Wooster's Field Botany course in Spring 2020.
Works Cited
Riveros, A. J., & Gronenberg, W. (2012). Decision-making and associative color learning in harnessed bumblebees (Bombus impatiens). Animal Cognition, 15(6), 1183–1193. https://doi.org/10.1007/s10071-012-0542-6
Roberts, J. (2020, February 6). Current Research in the Greenhouse—Bumblebees [In-Person].
Ison, J. L., Tuan, E. S. L., Koski, M. H., Whalen, J. S., & Galloway, L. F. (2019). The role of pollinator preference in the maintenance of pollen colour variation. Annals of Botany, 123(6), 951–960. https://doi.org/10.1093/aob/mcy211

Shipp, J. L., Whitfield, G. H., & Papadopoulos, A. P. (1994). Effectiveness of the bumble bee, Bombus impatiens Cr. (Hymenoptera: Apidae), as a pollinator of greenhouse sweet pepper.

Scientia Horticulturae

,

57

(1–2), 29–39.

https://doi.org/10.1016/0304-4238(94)90032-9

Richards, A. J. (1986). Plant breeding systems. G. Allen & Unwin.
Pictures
Cannizarro, A. (Photograph). (2014, August 7). Common eastern bumblebee (Bombus impatiens) [digital image]. Retrieved from https://www.flickr.com/photos/acryptozoo/14668688779/. License: https://creativecommons.org/licenses/by/2.0/deed.en
Dombrowski, T. (Photograph). (2009, 19 July). Purple on green [digital image]. Retrieved from https://www.flickr.com/photos/53326337@N00/3737869481/. License: https://creativecommons.org/licenses/by-sa/2.0/deed.en
All other pictures were received from Jess Roberts on 11 February, 2020