At a smaller liberal arts campus like the College of Wooster, a herbarium is a highly valuable resource for students to have. According to a survey of liberal arts campuses (Boyd, 2008), by far the most common use for herbaria was as a teaching resource for students. Given the wide diversity of samples in herbaria, they can be extremely useful for students that want to learn more about the floristic world. Unfortunately, plant identification can be difficult, even for trained botanists. But, have no fear! In 2011, Goëau et al. found that one of the best remedies for this issue was providing people with more accessible botanical information, in particular, highlighting the value of websites or applications with images and information about plants. The goal of this particular webpage is to provide that accessible information. Below is a list of a few different plants that you might run into around the college, divided by their native or invasive status.
Native plants
Native species are organisms that occur over the same geographic range they evolved in.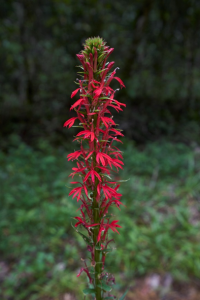 Lobelia cardinalis

Common name: Cardinalflower
Family: Campanulaceae, the bellflower family
Identifying characteristics: Long, broad leaves, lanceolate or ovate in shape, with toothed margins. The vibrant red flowers occur in a raceme.
Ecology: This plant is common to wetter environments, such as along streambanks or in wetlands.
Notes: Keep your eyes peeled for this one! It's been planted in a couple of different spots in the college's landscaping.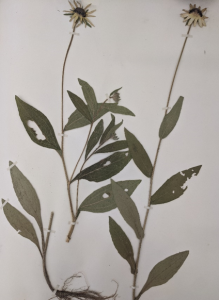 Rudbeckia hirta

Common name: Black-eyed Susan
Family: Asteraceae, the composite family
Identifying characteristics: Alternate, lanceolate, cauline leaves. The stem and leaves are both covered in coarse hairs. The central disc florets of the flower are typically brown to black, while the ray florets are yellow.
Ecology: Black-eyed Susans are often found in prairies, or other areas receiving a large amount of sunlight
Notes: While they might look like only one flower, members of the Asteraceae have flowers that are actually made up of many, many smaller flowers! This is where the name "composites" originates from.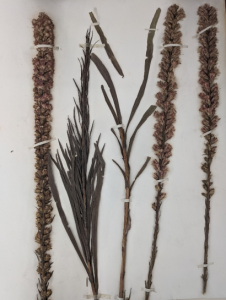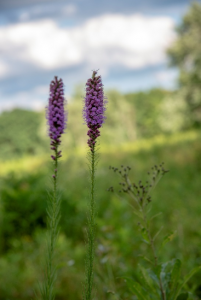 Liatris spicata

Common name: Blazing star
Family: Asteraceae, the composite family
Identifying characteristics: Whorled, linear leaves. The lilac flowers occur in a tall spike.
Ecology: This plant is commonly found in more water rich environments where it receives plenty of sun, such as moist prairies or sedge meadows.
Invasive plants
Invasive species are organisms that have been introduced to habitats outside of their evolutionary geographic range. They pose a major threat to the stability of native ecosystems and biodiversity.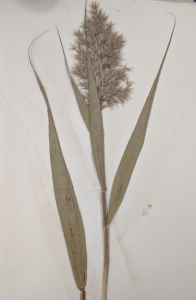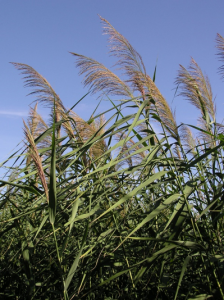 Phragmites australis

Common name: Common reed
Family: Poaceae, the grass family
Identifying characteristics: Alternate, linear leaves, with a white hairs growing about the ligule. The flower is a dense, purple panicle.
Ecology: It is an aquatic plant, commonly found around the borders of bodies of water. Here it outcompetes native species like wild rice (Zizania aquatica) and wetland orchids (Platanthera, Cyprepidium, etc).
Notes: This is an extremely tough invasive. It very commonly grows in roadside ditches. You've probably seen it before!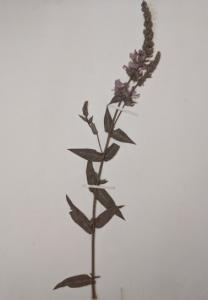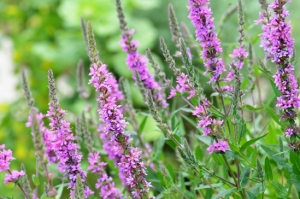 Lythrum salicaria

Common name: Purple loosestrife
Family: Lythraceae, the loosestrife family
Identifying characteristics: Sessile, opposite or whorled leaves with a downy covering. The stems are square in cross section, and the purple flowers form a verticillaster.
Ecology: This species commonly co-occurs with Phragmites australis. These plants favor the same sort of wet habitats.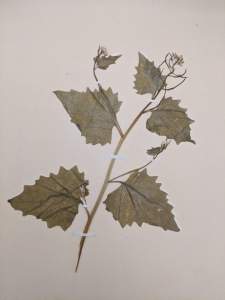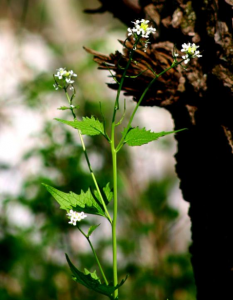 Allaria petiolata

Common name: Garlic mustard
Family: Brassicaceae, the mustard family
Identifying characteristics: Alternate, deltoid leaves with lobed margins. The flowers occur in small clusters, are white, and have four petals.
Ecology: This plant grows wherever a disturbance has taken place. It is a major threat wherever it begins growing, as this plant is allelopathic, and can release chemicals to inhibit the growth of surrounding plants.
Notes: Garlic mustard is what's known as a biennial plant. This means that it matures over the course of two years. In its first year, the plant doesn't produce flowers, remaining low to the ground as a clump of leaves. At this point in the plant's life, the leaves are typically more reniform and wrinkled (picture below).
NJS made this webpage to increase plant appreciation as part of Wooster's Field Botany course in Spring 2020.